Mardani Fine Minerals
Mardani Fine Minerals is the flagship gallery of industry leaders, Daniel Trinchillo and Marisa Chung of Fine Minerals International. Rooted in Daniel's signature, "taste-making" curation, Mardani is a place where visitors can experience fine mineral specimens in a unique and contemporary gallery setting.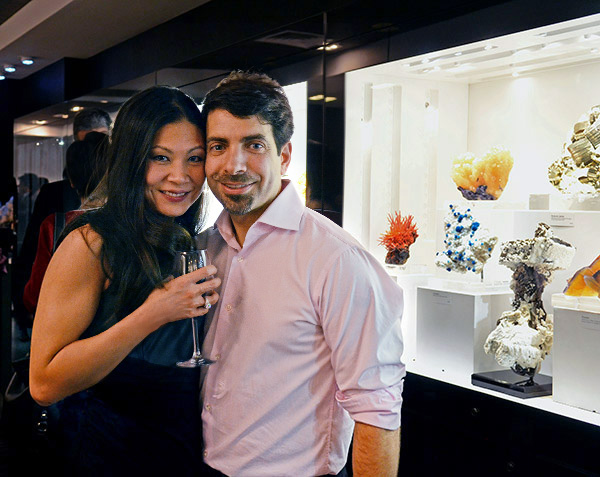 Daniel has nearly 25 years of experience as a mineral dealer in the private industry, and 35 years as a mineral collector himself. His focus has always been to acquire and present the finest specimens, and his commitment to quality (along with his passion and eye for beauty) has solidified his spot among the top mineral dealers in the world.
His willingness to travel the globe at a moment's notice and ability to recognize potential, trends, and timelessness within his field has made him the source of many of the finest specimens ever brought to market. He has discovered and sold individual specimens that have far exceeded previous record holders of the same species in both quality and price. These fine mineral specimens have not only redefined market values but some of the very standards and tastes of the entire collecting market. Many examples now grace the halls of prominent museums and the finest private collections around the globe.
In November 2014, Daniel and his wife, Marisa, opened the Mardani gallery. Their vision was to create a spectacular and inviting retail space where they could introduce the extraordinary beauty of the finest mineral specimens of the world to everyone, from the most seasoned collector to the absolute novice. Together, they now offer the opportunity to observe and acquire the world's finest natural treasures, specimens that were previously reserved exclusively to museums and private collectors.
Visitors of Mardani are encouraged to fully immerse themselves in the fascinating fine mineral specimens surrounding them. Not only are they given the opportunity to admire minerals for their incredible aesthetics, but they are also able to take in their history, learning about the circumstances of their creation and the methods behind collecting them. The Mardani is made up of mineral lovers who are eager and equipped to answer a wide breadth of mineral and mineral-related questions. From a mineral's formation and its provenance to information about metaphysical crystals and their cultural impact, all questions are welcome, and if the answer is unclear, they will gladly seek out the answer with you. The ultimate mission of Mardani is to inspire the world with these wonderful examples of natural art, and we look forward to sharing this experience with you.